The tanning rack is used to turn rawhide into leather.  It can hold two pieces at the same time, one on each side, and it takes 60 seconds for the leather to cure.  Removing the rawhide before it has finished will reset the progress, but no resources are lost.
Using it with Hoppers
Edit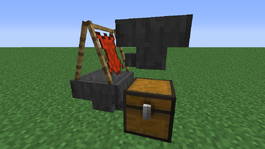 The tanning rack takes inputs from the two faces where hides are rendered and will pass outputs out through the bottom face (as is the typical requirement for vanilla item transport), see image, right.
Supplying raw hides to both sides then would require at least two iron hoppers.  A distributor placed above with two wooden hoppers feeding the iron hoppers would allow a single chest input with maximum processing efficiency.
Community content is available under
CC-BY-SA
unless otherwise noted.