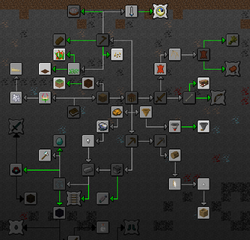 Various achievements are added to the game for the various sub-mods.  Each mod handles the addition of its own achievements and the slight repositioning of the vanilla achievements as necessary to fit them in (preferring fewer alterations over better spacing).
To the right is the expanded achievement map with all of the new achievements highlighted.  The nether achievements (bottom left) are cropped as nothing was altered.
Harder Ores
Edit
| Icon | Name | Description | Pre-Requisits | Notes |
| --- | --- | --- | --- | --- |
| | Bogged Down | Harvest Limonite | Benchmarking | |
| | Ore Refinement | Smelt Limonite or Mine Iron Ore | Bogged Down | |
| | Just a Nugget | Get your first Iron Nugget | Ore Refinement | You may also turn an iron ingot into 9 nuggets for this. |
| | Acquire Hardware | Smelt an iron ingot | Just a Nugget and Hot Topic | It is unlikely you will achieve only one of the pre-requisits before achieving Acquire Hardware.  Crafting from nuggets also works. |
| | Milling Time | Craft 9 Millstones | Getting an Upgrade | Image is of the axel, but all three parts are needed for Time to Grind anyway. |
| | Time to Grind | Build a Windmill out of 9 Millstones, 4 Axels, and 8 Wind vanes | Milling Time | Awarded when manually inserting an item into the millstone. |
| | Powedered Gold | Grind some ore into dust | Time to Grind | Sugar, wheat, etc. also work as long as they produce a dust item (bonemeal does not). |
| | Sift Away | Craft a Sifter | Powdered Gold | Any tiny dust item is sufficient. |
| | An Indication | Find an ore indicator plant | Taking Inventory | Awarded on-pickup. |
| | A Growing Search | Grow an ore indicator plant | An Indication | The ore indicator doesn't need to spawn, as long as the attempt was made (non-zero amount of any ore in the area). |
| | Sluicy | Craft a Sluice | A Growing Search | |
| | Making Due | Craft a Diamond Studded tool | DIAMONDS! | The DIAMONDS! achievement is awareded when picking up a diamond nugget, a full diamond is not required. |
| | Stone Replacement | Mine Diorite | Time to Mine | Only shows up if Gany's Surface or Chisel is installed and dioriteStoneTools is enabled.  Is the prerequisit for Getting an Upgrade. |
Harder Wildlife
Edit
Icon
Name
Description
Pre-Requisits
Notes
Smells like Dirt
Collect some Compost or Rotting Wood
Getting Wood
Greener on the Other Side
Grow some grass
Smells like Dirt
Rawhide!
Kill a cow, pig, or horse
Time to Strike!
Tanned Hide
Rawhide isn't good for anything, craft a Tanning Rack
Rawhide!
Leather Goods
Just leave it there in the sun
Tanned Hide

Replaces Cow Tipper.

Cow Tipper is still awarded, for mod compatibility, and is hidden behind Leather Goods.

Dragon Slayer
Slay a monitor lizard (they like warm places)
Monster Hunter
Cold Crops
Find a cold biome and reap the rewards
Time to Farm
Gardening
Break a Weed block
Time to Farm
Crop Rotation
Plant rows of alternating crops
Gardening
Awarded when breaking a crop block that is adjacent to only other crops.
Weed Suppressor
Put down some ground cloth to keep weeds down
Gardening
Awarded when breaking a crop block that is adjacent to at least one carpet.
HOW Cold is It?
Craft a Thermometer or Hydrometer
Time to Farm
One Year Later
Play for a full year
HOW Cold is It?
Expanded Industry
Edit
| Icon | Name | Description | Pre-Requisits | Notes |
| --- | --- | --- | --- | --- |
| | Drop Chute | Craft a Wooden Hopper | Benchmarking | |
| | Budding Industrialist | Craft a Minecart Loader | Drop Chute | |
| | Large Scale Processing | Craft a Distributor | Budding Industrialist | |